www.buzzwholesale.co.uk
The parcel conundrum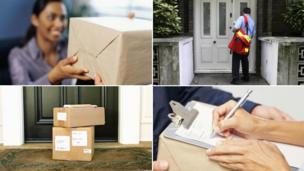 The Royal Mail move to ask people if they mind having parcels delivered to their neighbours is the latest effort to solve a thorny issue. How can people conveniently get parcels delivered when most are at work all day?
It's an experience almost all of us seem to share.
The swift, efficient world of online ordering meets the messy realities of the analogue world we actually live in. And it all seems to grind to a halt.
Richard Wilding is both a professor of logistics and supply chain management at Cranfield University and a victim of the parcel conundrum.
"We were expecting a gift to arrive, and the courier firm told us it had been delivered. We told them we hadn't received anything, and the company said it had been delivered to a hedge. We haven't got a hedge."
Some weeks later the box was discovered, sure enough in a hedge, about half a mile away from his house.
How does this sort of thing happen? Part of the problem seems to be that individual drivers are rarely incentivised to successfully deliver a parcel first time.
Some companies even count a missed-delivery card through the door as a successful delivery when making claims about their performance.
But the missed-delivery problem costs money as well as infuriating customers. In the UK 12% of deliveries fail first time, costing the industry an estimated