Buzzwholesale ltd cant wait for the games
Glasgow ready for Commonwealth Games opening ceremony
Queen and Duke of Edinburgh will attend Celtic Park ceremony where Rod Stewart and Susan Boyle will be among performers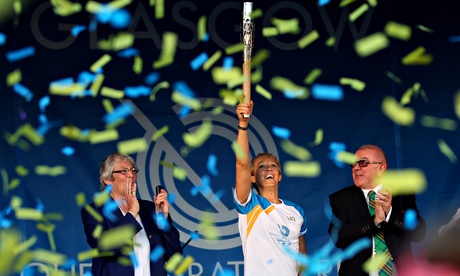 The Queen's baton in Queen's Park, Glasgow, on the eve of the Commonwealth Games. Photograph: Glasgow 2014 /Getty Images
Competing at the Commonwealth Games could provide a breakthrough for young athletes, Sir Chris Hoy has said, as Glasgow prepares for an opening ceremony that Scots believe will recapture the excitement of the curtain-raiser of the London Olympic Games.
Hoy, whose six cycling golds make him Team GB's most successful Olympian, said part of him wished he was competing, but he realised he was past his best.
The Queen, as head of the Commonwealth, will attend Wednesday evening's ceremony with the Duke of Edinburgh. Singers Rod Stewart, Susan Boyle and Amy Macdonald will be among those performing in front of a 40,000-strong crowd.
Organisers have said ordinary Glaswegians will also be heavily involved, and the ceremony will show people around the world "what we're made of" in Scotland, while celebrating values of unity and diversity.
"I know I will be very emotional," said Hoy of the opening gala at Celtic Park. "Part of me wishes I was competing, but I knew I was not going to be at my best so it was time to step aside. It was amazing to finish on top in London. I had a fair crack of the whip."
Hoy, who made his breakthrough in Manchester's Commonwealth Games in 2002, sidestepped questions about any political significance of the Games for the Scottish referendum vote on 18 September. "It will be political for the politically minded, but for athletes it will be the last thing on their minds," Hoy told BBC Radio 4′s Today programme.
David Cameron will do his bit to boost the Games. In a speech in Glasgow on Wednesday evening, the prime minister will highlight the