July 23rd, 2014
Glasgow ready for Commonwealth Games opening ceremony
Queen and Duke of Edinburgh will attend Celtic Park ceremony where Rod Stewart and Susan Boyle will be among performers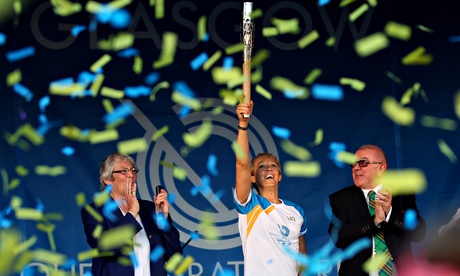 The Queen's baton in Queen's Park, Glasgow, on the eve of the Commonwealth Games. Photograph: Glasgow 2014 /Getty Images
Competing at the Commonwealth Games could provide a breakthrough for young athletes, Sir Chris Hoy has said, as Glasgow prepares for an opening ceremony that Scots believe will recapture the excitement of the curtain-raiser of the London Olympic Games.
Hoy, whose six cycling golds make him Team GB's most successful Olympian, said part of him wished he was competing, but he realised he was past his best.
The Queen, as head of the Commonwealth, will attend Wednesday evening's ceremony with the Duke of Edinburgh. Singers Rod Stewart, Susan Boyle and Amy Macdonald will be among those performing in front of a 40,000-strong crowd.
Organisers have said ordinary Glaswegians will also be heavily involved, and the ceremony will show people around the world "what we're made of" in Scotland, while celebrating values of unity and diversity.
"I know I will be very emotional," said Hoy of the opening gala at Celtic Park. "Part of me wishes I was competing, but I knew I was not going to be at my best so it was time to step aside. It was amazing to finish on top in London. I had a fair crack of the whip."
Hoy, who made his breakthrough in Manchester's Commonwealth Games in 2002, sidestepped questions about any political significance of the Games for the Scottish referendum vote on 18 September. "It will be political for the politically minded, but for athletes it will be the last thing on their minds," Hoy told BBC Radio 4′s Today programme.
David Cameron will do his bit to boost the Games. In a speech in Glasgow on Wednesday evening, the prime minister will highlight the
June 10th, 2014
…coming here very soon…
telephone: +44 (0) 1922 458 556
email: info@buzz-data-sims.co.uk
April 25th, 2014
Buzzwholesale very interested in f1 deal
Bernie Ecclestone
April 25th, 2014
Humans Are Now In The Minority On The Web
The Internet is the greatest communication tool that mankind has ever invented. As of June 30 2012, there were almost 2.5 billion humans connected to the Internet.
That number has most assuredly risen significantly since then thanks to the proliferation of mobile devices in emerging markets, like China and India. Even then, it would appear that we
April 25th, 2014
Royal Mail To Raise First Class Stamp Prices 3.3% Next Month
March 4th, 2014
BIOMETRIC GUN CABINET DIRECT LOVE TO SHOOT 308 RIFLES
March 4th, 2014
Great item, fast delivery, THANKS++++++++++++
Buyer:
03-Mar-14 18:40
parcel delivery box (#201036053009)

March 3rd, 2014

February 7th, 2014

Delivery driver attacked with axe in Dudley High Street

Dudley Council said High Street and Stone Street were closed

A cash delivery driver fought off three robbers armed with an axe outside a bank in Dudley, West Midlands.

The driver suffered minor hand injuries when the men attacked him in High Street, close to a branch of Barclays at 10:15 GMT.

The men fled empty-handed and escaped in a white Transit van, which was found abandoned nearby.

The security guard, who did not want to be identified, later said he was "simply doing his job."

Dudley Council said High Street and Stone Street were closed.

The driver told BBC Midlands Today reporter Peter Wilson he fought off the three men when they set upon him as he carried a secure cash box from his van.